Contact Touchpoint
to discuss how on-site chair massage can help your Madison-area business.
Touchpoint Corporate Chair Massage
We are a group of highly trained and enthusiastic massage therapists who are passionate about bringing massage to the workplace. Many people use workplace massage as an opportunity to keep their bodies in tip-top shape. In fact, some people experience the benefits of massage for the first time at work. We find joy in sharing the therapeutic and relaxing benefits of massage with people in their workplace environment. You can trust in our ability to bring professionalism and quality to your office.
About
Kimberly Gorichanaz, the owner of Touchpoint, contracts with high caliber therapists, all of whom are licensed with the state and carry insurance. She works hard to ensure the happiness and success of your company's chair massage program.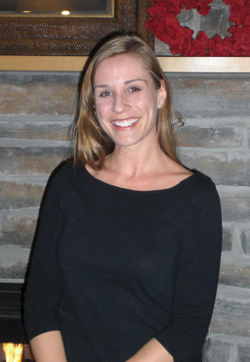 Kimberly Gorichanaz, Owner
Kimberly graduated from Blue Sky School of Massage in 2003. Since then, she's practiced a variety of massage techniques with many different clients and in a variety of settings. Kim specializes in providing measurable and lasting results for her clients. She enjoys using a targeted approach to give her clients the specific relief they need. Every chair massage she gives is a personalized experience.
In all her years of massage, Kim found chair massage to be fun and rewarding—for all its immediate benefits. Based on this insight, Kim founded Touchpoint Corporate Chair Massage in Madison in 2010. Known in the industry for her unique ability to respond directly to her clients' needs, Kim is friendly and professional, and she provides the care and service that you'd expect from someone of such a high caliber.
Kim also sees clients at Lengthen Massage Studio, her office on Odana Road.
When she's not giving massages, you can find Kim on the yoga mat, in the garden, riding her bike, and finding inspiration around the wonderful community she lives in.
Professional Credentials
Nationally certified in therapeutic massage and bodywork
Licensed with the State of Wisconsin, #2940-046
Insured through Associated Bodywork & Massage Professionals
Specialized training in precision neuromuscular therapy for the head, neck, TMJ, spine and trunk, as well as arm and hand therapies
Thai massage training under the tutelage of Chuck Duff and Dr. Anthony James