Book Chair Massage Today
Setting up chair massage is hassle-free. At Touchpoint, we'll work with you to create the perfect chair massage program for your workplace, whether it's a one-time event or a continual therapy program.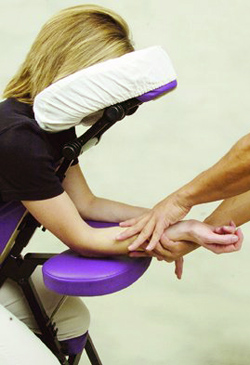 One-Time Event
Though chair massage is most effective as a continual therapy program, we're happy to set up a one-time visit to your Madison-area workplace. Just give us a call at 262‒993‒2294 or send us an email with the day you'd like us to come in, and we'll work with you to tailor a personalized, refreshing experience.
We're also happy to bring our services to your company's special event in the Madison or Milwaukee areas. Providing chair massage at your event is sure to increase traffic, create a positive, memorable experience, and differentiate your company.
Continual Therapy Program
We're here to help your employees work better, and to make work better for them. A continual therapy program is the best way for you and your employees to enjoy the benefits of chair massage. Many employees report that chronic conditions have been taken care of and the daily effects of workday stress are alleviated, when massage is received on a regular basis. We can schedule weekly, bi- monthly, monthly visits. We're happy to work with you to meet your specific needs.
Book Now
Just give us a call at 262‒993‒2294 and we'll help you choose the best service options for your workplace. We'll work with you through the entire process so there are no unpleasant surprises.
All you have to do is pick a day, book a conference room and give us a call. Once the details are confirmed, we'll provide you with materials to build excitement around the workplace, and you'll help spread the word.
That's it. We provide all the rest—wonderful massage staff, scheduling tools, a specially designed massage chair, sanitizing supplies, music, and other equipment as needed for your appointment.
You should email us here or call us at 262‒993‒2294 so we can get started!
Pricing and Payment Options
Our hourly rate is $75.00. We bill by massage time per therapist. Otherwise, you can lock in a therapist for a set time with our hourly rate. In either case, there's a two-hour minimum. Please note that a $20 travel fee may apply in some situations.
With these all-inclusive rates, we provide prompt phone and email support, risk management compliance, transportation to your workplace, all the equipment and setup, and our friendly, licensed and insured massage therapists.
Touchpoint offers multiple payment options, including:
Company-Sponsored
The company pays 100%
Co-Pay
The company and individual employees split the cost in any proportion
Employee-Sponsored
The employees pay for their massages
We're determined to set up the best chair massage program for your workplace's unique needs. We're flexible, and can assist you with scheduling and provide you with logistical recommendations. Just give us a call or drop us an email.
When you're ready to make payment, you can do so quickly and easily using our online payment page.
You can also use chair massage as a relationship-building, inter-office gift. Perhaps as employee rewards or incentives. Such a gift—delivered as a personalized, attractive package—to your most valuable clients and employees won't be soon forgotten.
We also have gift certificates available in any denomination.