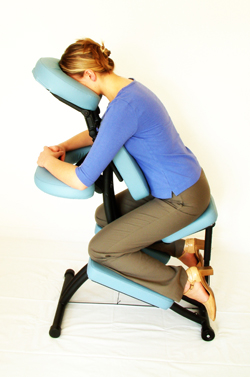 How Chair Massage Works
Everything about chair massage is easy and convenient. We bring and set up all the equipment. Your employees remain fully clothed. While it is nice to have a private space for chair massage, it's not always necessary. A break room, conference room or quiet corner will work just fine.
During chair massage, the client sits on a portable massage chair that's specially designed for comfort—it gives the massage therapist access to the client's back, shoulders, neck, arms and hands. Even 15 minutes of massage in this comfortable chair can improve blood flow, energizing the client and injury-proofing the body.
Is 15 minutes really enough time? Yes, and then some. Studies have shown that, with the right touch, cramped muscles can be rejuvenated after just a few minutes of massage therapy. You can be confident that Touchpoint will provide that touch.
You should set up a continual therapy program to provide all of the amazing benefits massage can offer. Your employees will appreciate it!
Set Up Chair Massage at Your Workplace
Touchpoint makes it easy for you to bring chair massage to the office.
If you're looking for a cost-effective benefit for your employees, chair massage is the answer. Every year, more businesses are adding chair massage to their employee wellness programs. There's a reason: It's a safe, convenient, cost-effective way to improve morale around the office, and it provides numerous health benefits. In fact, many businesses have found chair massage to be so effective that employees are willing to share the cost.
The best way to bring chair massage to your office is to set up a continual therapy program. Show your employees how much you care by making a professional, licensed chair massage therapist regularly available at the office. Touchpoint can schedule a therapist for weekly, bi-weekly or monthly visits to your office to improve employee satisfaction, focus and productivity.
Furthermore, offering chair massage can be an effective recruiting tool for potential employees.
What are you waiting for? Book chair massage for your company today!