Chair Massage Benefits
Chair massage is the easiest way to provide your employees with important health benefits. Often people look at massage as an expensive luxury, but it's actually cheaper than other employee benefits. Don't forget: With Touchpoint, arranging chair massage services for your employees is easy and hassle-free.
But chair massage isn't just for your employees—it benefits your business, too. Here's how:
Increased productivity and creative thinking
Simply put, when people feel better, they work better. Even 15 minutes of chair massage a week have been scientifically proven to lower stress, reduce muscle tension, rejuvenate the mind and body, and foster alertness—the keys to productive people.
Reduced absenteeism
Because massage benefits the immune system, a chair massage program can lead your employees to take fewer sick days. That's a bigger deal than you might think. According to a study by the Bureau of Labor Statistics, workers who take time off because of stress or anxiety will be out of commission for more than 20 days throughout the year. That's four weeks! Additionally, there are countless other studies that demonstrate how chair massage's health benefits reduce employee absenteeism.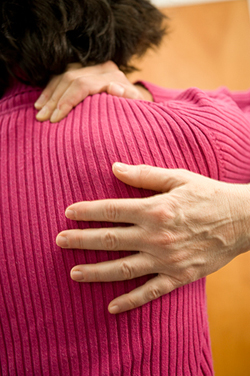 Fewer stress- and ergonomics-related injuries
Americans put in longer hours than workers in any other industrialized nation. And those hours are constantly getting more stressful. According to the American Institute of Stress, 40 percent of workers in a 2001 survey described their office environment as a "real life survivor program." More than half of workers complained about their workplace's fast-pace and tight deadlines, and many reported having to do monotonous, repetitive tasks.
The European Agency for Safety and Health at Work reported that one in five last-minute workplace no-shows in the United States are due to job stress. In fact, one large corporation conducted a three-year study and found that 60 percent of its employee absences could be traced back to job-related stress problems.
And it's not all psychological. Sitting in a chair all day is a leading cause of back pain (Did you know that 30 percent of office workers report back pain?), fatigue, headaches and other physical health problems, which can lead to complications.
Improved retention rates
Chair massage can help your company retain its employees by improving job satisfaction. Furthermore, your employees will perceive chair massage as a benefit, even if they pay for the service themselves. It's that effective!
Show your employees that you care. They'll be happy that you took the time to do something nice for them.

Maybe they'll even boast to their friends about what a fantastic workplace they have.
Valuable recruitment tool
For all its positive health effects, a chair massage program at your workplace can be very attractive to the brightest and best prospective employees.
Improved morale and goodwill
After leaving a chair massage session, employees consistently report a positive mood and sense of well-being. By establishing a chair massage service at regular intervals, you'll perpetuate this feeling.
Lower health-care costs
Regular workplace massage can reduce the need for doctor's visits for physical complaints and stress-related issues. After all, studies show 75 percent of doctor's visits are for stress-related problems.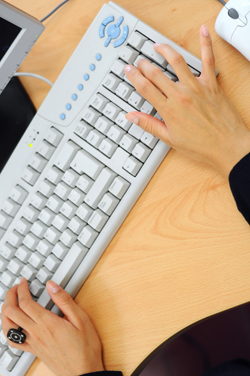 Tax-deductible employee benefit
Your employees will enjoy:
Reduced stress and anxiety
Just 15 minutes of chair massage a week can significantly reduce stress and anxiety. And that really is a big deal. In fact, most stress and anxiety for adults is caused by work in the first place, and at least 75 percent of visits to the doctor's office stem from this stress. Chair massage is highly effective in reducing stress and helping prevent repetitive stress injuries—like carpal tunnel.
According to an August 2002 Gallup Poll, 31 percent of U.S. workers are somewhat or completely dissatisfied with the amount of stress they face at work. Workplace stress can cause health problems, absenteeism, job turnover, and anxiety at home. Because of this, companies can experience higher health insurance premiums and lower productivity, and family members may suffer the effects of cranky workers getting home late at night after stressful days at work.
Headache and migraine relief
The University of Miami's Touch Research Institute and several other researchers have found that migraine sufferers who receive frequent massages experience a significant reduction in migraine attacks. These findings have led many doctors to recommend that their patients get massages to curb the severity and frequency of migraines. What more convenient way to do this than to get a massage at work?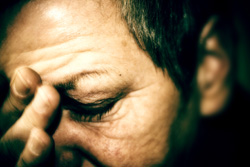 Other studies have also found that massage treatment led to lower stress levels, less pain, more headache-free days, fewer sleep disturbances and increased serotonin levels.
Relief of muscle soreness
Receiving just five or ten minutes of chair massage has been found to be effective for relief of aches and pains and stress reduction.
Lower blood pressure
Increased flexibility and range of motion
Increased resistance to illness